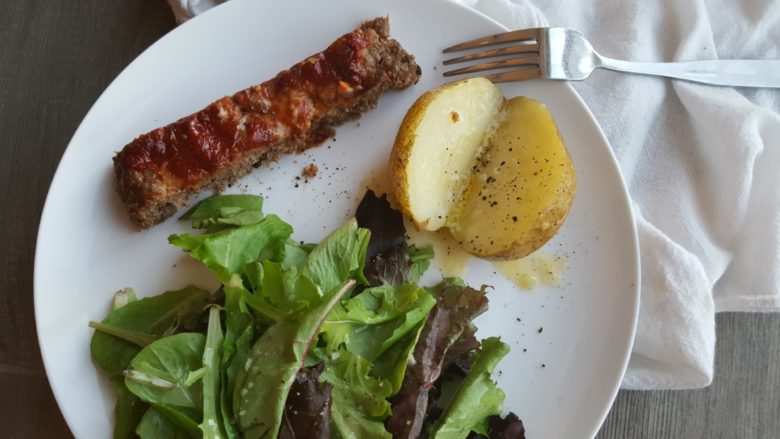 COMFORT FOOD // Who's tired of Turkey?!? Well, good thing it's the season of comforting foods! I recipe tested one of THE most comforting foods, meatloaf! This was DANG good! My boys will be like, "MOM!!! Meatloaf!!!" (Okay, name that movie!) 
First of all, I have to mention – this grain-free, grass-fed, real foods version of meatloaf went to my subscriber's inboxes first. Are you on that list? If not – join here!
Next up, once you make this meatloaf, I promise you won't miss those processed bread crumbs! The fillers and processed things we find in most comfort foods can leave us feeling not at our best. This meatloaf can change that!
If grass-fed beef is not in your budget or you are not real clear on the 'why' behind it, then opt for leaner cuts of ground beef. When we look at conventional beef, the toxins those animals are exposed to is stored in the animals' fat. SO… the less of that toxin laden fat we eat, the better off we are. If conventional is where you are at – no big thing, simply opt for leaner ground beef OR shop sales for grass-fed beef like I do!
INGREDIENTS:
The Meatloaf
1/2 onion, minced
1 large carrot diced small
8 oz mushrooms (optional)
2 small garlic cloves
1 Tbsp good quality bacon fat OR grass-fed butter like Kerry Gold OR Ghee
2 lb grass-fed beef
1 egg
1 Tbsp tomato paste
1 tsp Dijon – I used Annie's (it's sugar free and grain-free)
1/2 cup almond flour
1 tsp Celtic Sea Salt and 1/2 tsp Pepper
Sauce on top
PREPARE:
Preheat the oven – 350 Convection Bake (or 375 Bake)
Chop the veggies and set them aside.
Heat a 10 – 12 inch skillet like this Lodge Cast Iron one up over medium high heat.
Add your fat of choice (bacon fat, butter or ghee) to the skillet.
Once the fat is heated through, add your onions, carrots and mushrooms to the skillet. Add a pinch of sea salt to help them begin to sweat.
Saute for 3-5 minutes until they begin to soften, then add the garlic. Saute all for 5 min, then set aside to cool.
While veggies are sauteing – combine all the ingredients for the sauce and set aside.
In a large bowl, combine the beef, egg, tomato paste, dijon mustard, almond flour and 1.5 tsp Sea Salt and 1/2 – 3/4 tsp black pepper. Mix well with your clean hands.
Add in the vegetable mixture and combine.
On a large sheet pan lined with parchment if you prefer easier cleanup – shape the meatloaf. ***Super important that you spread this out and have an even thickness, about 3/4 to 1 inch thick, creating a small valley for the sauce to be spread.
Spread the sauce on top evenly in a thin layer.
Bake in the oven for 30-35 minutes.
We served ours with bake sweet potatoes and a small mixed greens salad – Hello COMFORT FOOD!
Let me know how it turns out!