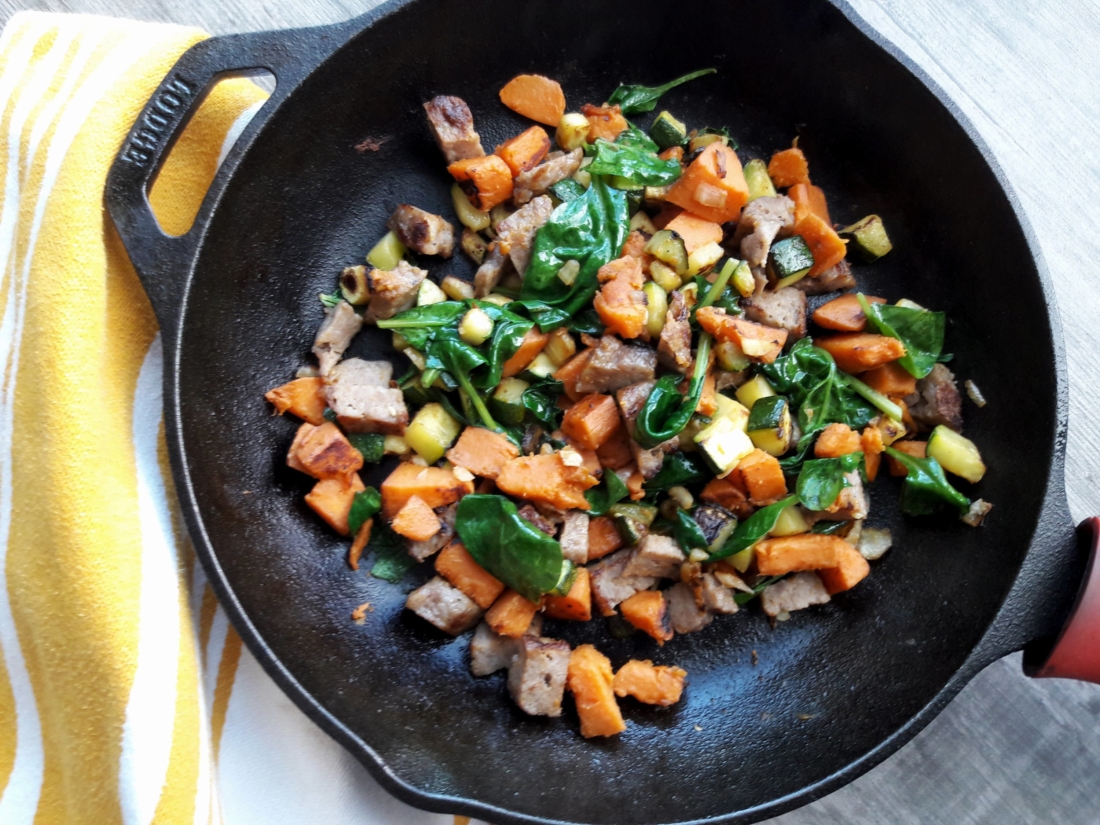 Cozy Fall mornings call for jammies, a big mug of bullet proof coffee and this hash!
This hash is so versatile. Add eggs, swap out the sausage for bacon… It all cooks up perfectly in this Lodge Cast Iron Skillet.
Left this way, it's perfect for my autoimmune protocol #aip friends out there. ❤
Substitute butternut squash for the yam and it's 21 Day Sugar Detox approved for ALL levels *if you use an approved sugar free sausage*. Leave the yams and it's 21DSD approved for those on the energy modification.
For more information on the detox go here and you can get your guidebook here.
Now, go make this!!! Let me know in the comments below how it turned out or how you changed it up!
Harvest Hash Recipe
-1-2 Tbsp. Avocado Oil OR Pasture Raised Lard
-1 Yam diced
-1/4 onion diced small
-1/2 a large zuchinni diced
-1 garlic clove minced
-1 cup chopped Kale OR Spinach
-6 oz of sugar free sausage already cooked OR use ground pork.
-Sea Salt + Pepper to taste
DIRECTIONS
-Heat the skillet on Med/High.
-Add Avocado Oil OR Lard.
-Add the diced yams to the skillet and saute, tossing frequently, 8-10 min or until golden brown and cooked through.
-Set yams aside.
-Add more Avocado oil, let it heat through.
– Add the onions and zucchini to the skillet.
-Saute for 5-7 minutes or until onions are translucent.
-Turn heat to Medium. Add the garlic to the skillet and cook for 2-3 min being careful not to burn it.
-Add the cooked yams and sausage to the skillet, mixing them in and letting them warm through.
-Then, add the Spinach or Kale and let it cook down, mixing it in with the rest of the vegetable + meat mixture.
Serve and enjoy!!!